MORPHEAS Apartments and Studios can be found directly at the beach road with beautiful sea-view from the balconies. It offers spacious studios and apartments.
Morpheas Apts. Webcams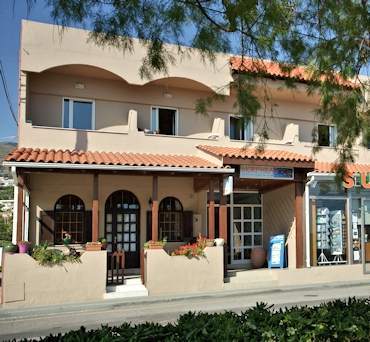 Morpheas Apartments offer two webcams to its visitors.
Just click HERE and you can see the area surrounding Morpheas Apartments in Plakias.
Morpheas Recommendation
Morpheas Apartments Welcome
The sea view part of Morpheas Apartments in Plakias was built in 1987. The lateral part was built in 1999.
Since then Morpheas Apartments been renovated several times until its present state.
Morpheas Apartments offer different types of rooms. We are sure you will find one to suit your needs. We don't call it a hotel but the amenities and cleanliness are far better than in many hotels.
We recommend our accommodation for those whose seek a self catering holiday just a breath away from the sea. For those who look for a modern and comfortable establishment with no frills, for spotlessly clean rooms, for care, discretion and hospitality, we are here.
We invite you to our small peaceful village Plakias that most of our guests call "A small heaven on Earth".
The owners.
Olga and Manolis..